Insurance Comparison
Quotes from 100+ top UK providers
Insurance products are certainly not a luxury purchase, they're a commodity, which means they can be bought from many different sources with very little real differentiation from product to product.
The buying decision will be based on a few things, like the effort needed to search for a suitable product, attraction to the brand and a competitive price. Either way, having appropriate insurance coverage is a necessity in this day and age.
MCH Financial can introduce a range of products, within a tailored solution, that aims to ensure the people connected with your organisation get what they need, as quickly and competitively as possible, whilst presenting an opportunity to make savings for themselves and earn money for your cause.
Insurance quote technology provides price comparison on multiple products, from over 100 top UK insurance providers. When a purchase has been made by a member, the revenue that MCH generates from the sale of that product, is passed over, in full, to your organisation. Your members (and their extended family) could save over £200* on car insurance alone and your organisation will earn from doing the things that we all just have to do. It's easy to see just how rewarding that could be.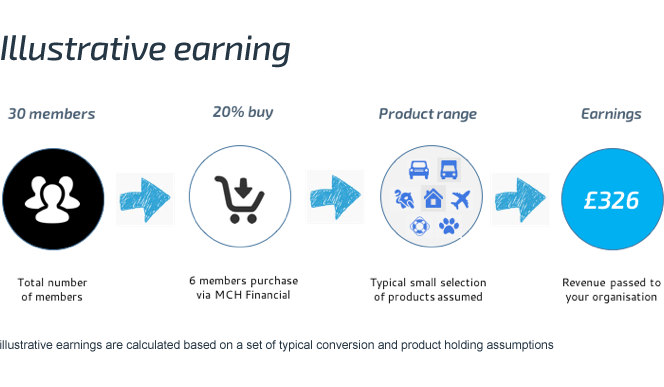 Due to policy cancellation rules, it can take up to 3 months for MCH to receive and forward payment against validated sales, however, authorised officials will be able to view validated sales via their MCH reporting dashboard.
MCH Financial also introduces a range of more specialist products that may be of interest to your member base. Your organisation will not receive any revenue against the sale of these products but your members could potentially benefit from further savings, so we've included them here.
Compare specialist products
Business
Business motoring
Lifestyle
*The quote system is owned and operated by Seopa Ltd who are authorised and regulated by the Financial Conduct Authority. 51% of consumers could save £200. Seopa Ltd split the providers on their system into different categories. They then selected quotes from the high volume sales providers as well as quotes from other providers which returned a price. Based on UK insurance market share data made available by the ABI, by way of a weighted selection process, they selected the cheapest of either the high volume sales providers or other providers ("the cheapest selected quote"). They then compared the cheapest quote on their system against the cheapest selected quote. They then took the savings figure which 51% or over could have saved using that formula. The savings you could achieve are dependent on your individual circumstances and how you selected your current insurance supplier