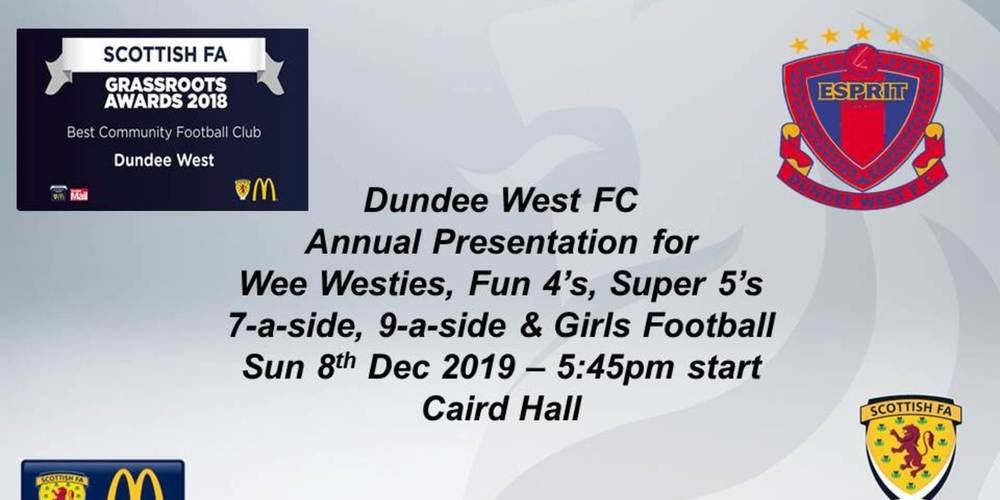 Dundee West Annual Presentation will be held on Sunday 8th Decemeber in the Caird Hall.
This presentation is for all Non Competitive Football Teams and Girls who season finishes end of November.
We have a capacity to stick to and with that in mind each West Player can bring a Maximum of 3 people with them.
Please arrive 5:15pm
Due to the size of the Club there aren't many venues in Dundee which can hold all of us! Which is why we have opted for The Caird Hall for the 2nd year in a row.
To hire the Caird Hall, it is expensive and to try and cover some of the costs for the hall hire we will be selling raffle tickets at the Door of the Caird Hall.
We would appreciate if you can all support this Raffle by purchasing some raffle tickets on your way in.
Also if you would like to donate a raffle prize please hand any donations to your coach prior to the day of the event.
We look forward to seeing you all there in what is sure to be another great event.
Yours in Sport
Dundee West Executive Committee
It is free to attend and you don't have to reserve a spot. Just come see us at the event!
Back to events