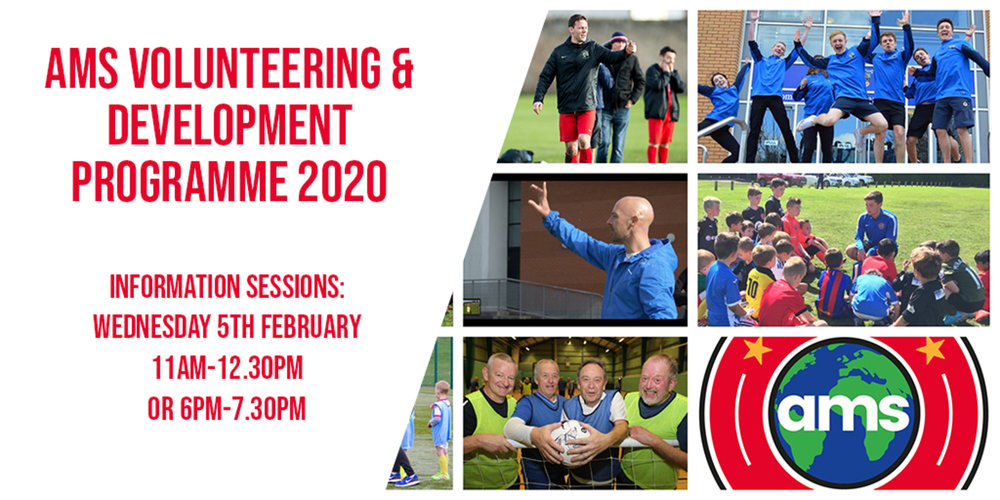 AMS Volunteering Programme 2020 - Information Session
Wed 05/02/2020 11:00am - Wed 05/02/2020 12:30pm
AMS Offices, Cupar Muir Industrial Estate Cupar Muir Fife KY15 5RL
Free
*Please note, we are also running this event at 6pm on the same day for those unable to attend the 11am session*
AMS are delighted to announce their brand new volunteering programme for 2020 which involves numerous opportunities to get involved in all aspects of our work including:
- AM Soccer Club (including team football)
- AM Soccer Tots & Mini Tots
- AM Soccer After Schools
- AM Special Needs
- AM Small Communities
- AM Seniors
In 2020, we're relaunching our volunteering programme and introducing a new developmental and educational aspect to it. Volunteers massively contribute to all aspects and success of the charity's work and we're proud to support them. Throughout the course of 2020, all our volunteers can expect to receive:
- Coaching of the AM Soccer curriculum
- Video analyst training
- Mental Health Education and training
- Diversity and equality education and training
- SFA Levels 1.1, 1.2 & 1.3 paid for by the club (based on number of hours volunteered)
Outside of the developmental programme, volunteers can expect to receive:
- AMS branded coaching kit
- Opportunities to progress to paid work with the club
Several volunteers of ours have progressed either into paid coaching roles with the organisation or elsewhere, using their experiences gained with AMS to further their careers. This, of course, includes our very own Austin MacPhee alongside the likes of Emily Shaw (FIFA Member Associations Director) and Jack Wilson who has progressed into full-time video analyst full with Heart of Midlothian and Northern Ireland.
Find out more about the opportunities available to volunteer and get involved with AMS at our information sessions on the 5th of February:
11am-12:30pm
Or 6pm-7:30pm
The sessions will be held at our offices at AMS, Cupar Muir Industrial Estate, Cupar Muir, Fife, KY15 5RL.
If you have any questions about volunteering with the club or the informational sessions, please email andrewjenkin@amsoccerclub.org.
It is free to attend and you don't have to reserve a spot. Just come see us at the event!
Back to events